the Band: the Strokes
the Date: Fri January 24, 2002
the Venue: Verizon Wireless Theater (Houston)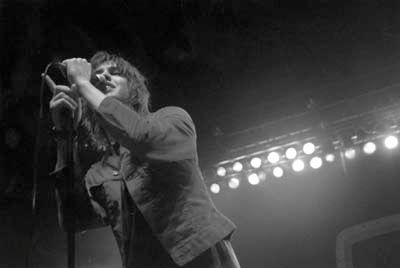 (Photo credit to ROCKZONE.com http://www.rockzone.com/pictures/strokes-012402.shtml)
I was in Houston for work (I was always in Houston for work) and looking for something to do. Even though I was pretty sick with a cold, I didn't want to miss this band that I had heard so much about. So after a little pharmaceutical strength (thank you, Sudafed), I made my way downtown to the Verizon Theater. It was all worth it.
The Strokes are from New York. They were relatively new but there was a near-hysterical buzz about them and their debut album, Is This It?
. The band is made up of Julian Casablancas (vocals), Nick Valensi (guitar), Albert Hammond Jr. (guitar), Nikolai Fraiture (bass) and Fab Moretti (drums).
The show was great even though it was short and quick. I think they played every song in their catalog, even the "controversial" tune, New York City Cops. That was part of the excitement. These guys were so young, just starting out, and they were playing everything they had. It was perfect. I didn't leave the show wanting more because I knew there was nothing more give. What was given was full-on Rock and Roll.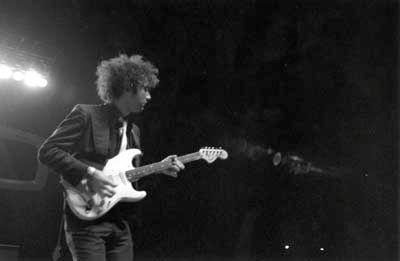 (Photo credit to ROCKZONE.com http://www.rockzone.com/pictures/strokes-012402.shtml)
This show deserves a special note: around this time, I was growing disappointed with the music scene. Though I loved the music from my college days (1990-94, fueled by DC's 99.1 WHFS), I felt the late 90's had little to offer … too much Offspring, Kid Rock, Limp Bizkit and other screeching rap-rockers. Where did rock and roll go? Needless to say, my interest in music was fizzling out … I even started listening to a little country music. Gasp! Then, my buddy Roy made a mixed-CD for me. It contained a track from the Strokes. It was awesome! I must have played that track dozens of times. This band absolutely woke me up from my music listening slumber. Thanks, Roy … oh and thanks, Strokes, you scruffy-looking saviors of rock, you. I'm awake now.
Full setlist: Modern Age / Someday / Ze Newie / New York City Cops / Soma / Is This It? / Hard to Explain / Last Nite / Alone Together / Barely Legal / When it Started / Trying Your Luck / Meet Me in the Bathroom / Take it or Leave it
And girls lie too much
And boys act too tough
Enough is enough ...