the Band: Metropolitan, el Guapo, the Dismemberment Plan
the Date: Wednesday May 28, 2003
the Venue: Black Cat (DC)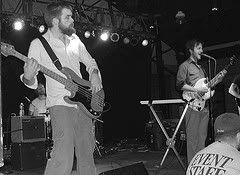 This was a benefit show for Fort Reno. Metropolitan and el Guapo were the opening acts. I missed them, but picked up a couple of Metropolitan CDs at the merch table. Nice stuff … a little bummed I missed them. Note, Ted Leo & the Pharmacists were supposed to open, but Ted was having some voice problems and had to cancel … Metropolitan filled in.
The Dismemberment Plan was the main attraction. D-Plan is an indie rock band from D.C. The band members include Eric Axelson (bass), Jason Caddell (guitar), Joe Easley (drums), and Travis Morrison (vocals and guitar). I caught them almost a year ago in Houston and they rocked. This show was even better. The band was on their last tour after announcing their break-up in January. For this hometown crowd, D-Plan played a super-long set about 100% determined by requests from the audience. It was awesome! My favorite tunes were What Do You Want Me to Say?, Time Bomb, You Are Invited, and Back and Forth.
Full setlist: What Do You Want Me to Say? / Time Bomb / The Face of the Earth / The City / Do the Standing Still / Ellen and Ben / You Are Invited / Girl O'Clock / The Dismemberment Plan Gets Rich / Gyroscope / Tonight We Mean It / Following Through / The Ice of Boston / Close To Me / Bra / That's When the Party Started / Soon To Be Ex-Quaker / Life of Possibilities / OK, Joke's Over / ENCORE / Rusty / Back and Forth
What do you want me to say?
What do you want me to do?
To let you know that I do mean it …