the Band: Guster, John Mayer
the Date: Tue September 3, 2002
the Venue: DAR Constitution Hall (DC)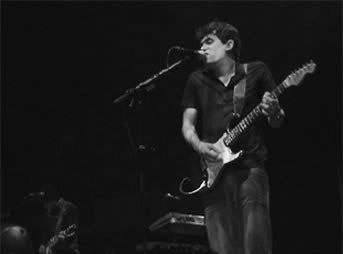 (Photo credit to someone on the internet)
I was more interested in seeing Guster than John Mayer, but let's be honest … I am a closet John Mayer fan. Both performances were entertaining. I was drawn to the Guster show, but that may have been because the crowd was overwhelmingly teenage girls who were there to see John Mayer … a part of me just didn't want to connect with that group.
Anyways, this was the first time I had seen Guster after enjoying their CDs. The band, Adam Gardner (vocals, guitar), Ryan Miller (vocals, guitar) and Brian Rosenworcel (drums), really put on a great show. I'm just amazed that Brian played the drums entirely with taped-up fingers. Ouch!
My favorites from Guster were Happier, Barrel of a Gun, Airport Song, and Fa Fa.
My favorites from John Mayer were Why Georgia, My Stupid Mouth, Your Body Is a Wonderland, and Neon. Yeah, they're all kind of sappy. Oh yeah, and his cover, or rather tease, of the Pearl Jam tune, Yellow Ledbetter, was pretty cool too.
Full setlist for Guster: What You Wish For / Happier / New Song 2 / Great Escape (Brian's bday rap) / Mona Lisa / Demons / Homecoming King / Either Way / Barrel of a Gun / I Spy / Airport Song / Center of Attention / Fa Fa
Full setlist for John Mayer: No Such Thing / Why Georgia / Back 2 You / City Love / Covered in the Rain / King of Pain >Intro intro >83 / (JM keyboard solo) Lenny > Man on the Side > Yellow Ledbetter (Pearl Jam cover) > Man on the Side / Love Song for No One / My Stupid Mouth / This Will All Make Perfect Sense Someday / Your Body is a Wonderland / 3 x 5 / Neon
goddamn you movie star
can't you just stay a minute more? . . .