the Band: Whispertown 2000, the Breeders
the Date: Friday, August 21, 2009
the Venue: Black Cat (DC)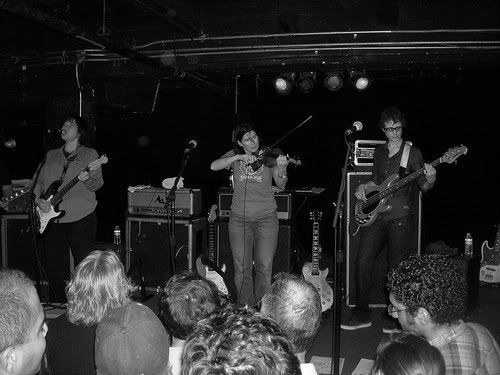 Whispertown 2000 opened. They were okay.
The Breeders were the main attraction. They are nothing short of amazing. They have always put on a phenomenal show and such was the case at Friday night's show at the Black Cat. The current members are Kim Deal (guitar, vocals), Kelley Deal (guitar, vocals), Jose Medeles (drums), Mando Lopez (bass), and Cheryl Lyndsey (guitar). Their regular bassist had to leave the tour to witness his girlfriend give birth so the band called in their original bassist Josephine Wiggs to fill in. It was a healthy dose of nostalgic awesomeness!
The Deal twins, et al. played tons of songs from the early material, maybe to be sure that Josephine would be comfortable. Whatever the reason, the crowd, myself included, absolutely loved it. Even though it was an all too brief affair, only about 65 minutes, the show was amazing. My favorites of the evening were Drivin' on 9 (where Kelley picked up the violin), Divine Hammer, Cannonball, Saints, and Huffer.
Full setlist: No Aloha / Walk it Off / Divine Hammer / New Year / Cannonball / I Just Want to Get Along / Do You Love Me Now? / Happiness Is a Warm Gun / Iris / Fortunately Gone / Hoverin' / Little Fury / I Am Decided / Night of Joy / Bang On / Huffer / Drivin' On 9 / Safari / Saints / Tipp City
Motherhood means mental freeze ...