the Band: White Rabbits, the Walkmen, & Spoon
the Date: Fri April 11, 2008
the Venue: Sonar (Baltimore)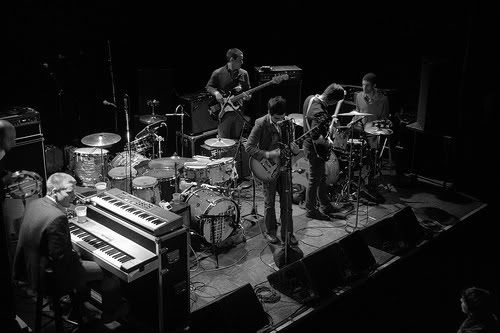 White Rabbits was the opening band. Unfortunately, we were a little late to the club and missed some of their set. The part that we did catch was fully entertaining. As I understand things, this sextet is relatively new to the indie scene (please don't ask me to describe what that scene is ... I don't know). We really liked what we saw and were bummed that we missed some of their show. Keep it up boys and visit us again soon.
The Walkmen was the band I was really interested in seeing. I've been following these guys since before they were the Walkmen (yeah, I'm talking about Jonathan Fire*Eater and the Recoys). Did you know they all grew up in DC? Suffice it to say, I'm a HUGE fan. Last night, these guys did not disappoint. It was an amazing set including the Rat, Another One Goes By, All Hands and the Cook, ... and even Wake Up! There were a ton of new songs as well including (sorry if I got the names wrong) I Lost You, Canadian Girls and Donde Esta La Playa? This may have been the strongest Walkmen show I've ever seen. The whole group was SPOT ON and Hamilton Leithauser belted and crooned his way through the entire show. It's been a full two years since their third album, A Hundred Miles Off
, was released and I simply cannot wait until their next release (out this summer maybe) ... more music ... more shows ... more, more, more!
As if we didn't get enough, Spoon ended the night with a superb performance. Much of their set concentrated on tunes from their 2007 album, Ga Ga Ga Ga Ga
. My personal favorites included Don't Make Me A Target, Don't You Evah, You Got Yr Cherry Bomb, I Turn My Camera On, the Underdog, Small Stakes, and The Beast And Dragon Adored (just to name a few) but it seemed to be that every tune they played was a fan-favorite. The crowd absolutely loved these guys. Britt Daniels and the other Austin boys returned the favor by playing not one, but two encores.
If you haven't figured it out by now, the night was a complete success. With White Rabbits, the Walkmen and Spoon on the bill, how could it be anything less?
And when you believe they call it Rock and Roll ...