the Band: South San Gabriel, One (1) Baptist General, Centro-Matic
the Date: Wed November 19, 2008
the Venue: Rock and Roll Hotel (DC)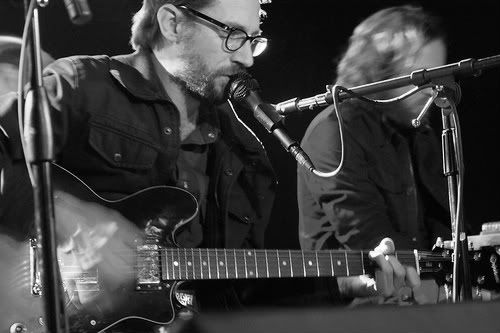 South San Gabriel opened. Now, that's a bit misleading because South San Gabriel is actually an offshoot project of the headliner, Centro-Matic. The difference here being they take four core members of Centro-Matic and add a few additional members to go for a more subdued sound. Their set was well played and a great way to start out the night.
The lead singer from the Baptist Generals, a small indie band from Centro-Matic's hometown of Denton, Tex-ass, played solo acoustic next. Get it? He was just One (1) Baptist General. Ha! Anyways, I don't know much about the Baptist Generals, but I like what I heard.
Centro-Matic took to the stage around 10:30 and played a full hour and a half. The band consists of Will Johnson (lead vocals, guitar), Scott Danbom (vocals, violin, keyboards, bass), Mark Hedman (bass, guitar), and Matt Pence (drums). These guys have been making killer music for some twelve years and they played killer music tonight.
This was probably the best Centro-Matic show I've seen. Will and the band were in good spirits and kept referring to their joy over the recent Obama win. Ahhh, another reason I love these guys. I feel like they played just about all of my favorites. They even performed the English Beat's Save it for Later in their encore that took everyone by surprise and blew most of us away.
Full setlist: Love You Just the Same / Fountains of Fire / Call the Legion in Tonight / Flashes and Cables / Good As Gold / Mighty Midshipmen / The Rat Patrol and DJs / Quality Strange / I, The Kite / Covered Up in Mines / Calling Thermatico / Saving a Free Seat / Supercar / Blisters May Come / Strahan Has Corralled the Freaks /ENCORE / Save It For Later (The English Beat cover) / ?
just a reminder to all of us
that you ain't the superstar
that we once thought you were ...