the Band: Mark Gardener, Black Rebel Motorcycle Club
the Date: Wednesday September 28, 2005
the Venue: 9:30 Club (DC)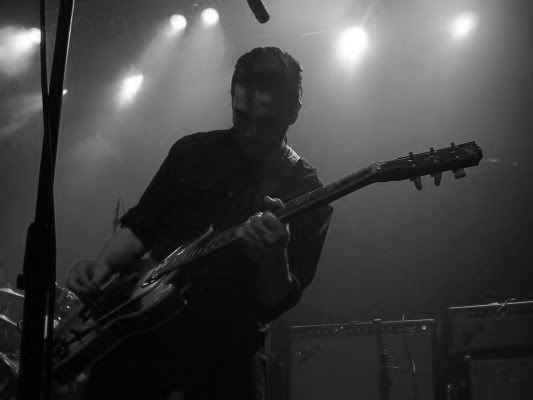 (Photo credit to Black Rebel Motorcyle Club's website)
This was the third show of the greatest week of Rock n' Roll of my life. This time we were at DC's 9:30 Club, one the best venues for live music … and, because he was still in town, I was able to share this continued journey with one of my best friends, Joe.
Mark Garderner was the opening act. He used to be in the band, Ride, the UK band that spearheaded the "shoegazer" movement. He played a 12-string guitar and was backed by another guitarist and female vocalist/keyboardist. They did a great job of setting the stage for the band we were all there to see.
The main act was Black Rebel Motorcycle Club (or BRMC), the name of Marlon Brando's biker gang in The Wild One. Based in Los Angeles, this band consisting of Peter Hayes (guitar, vocals), Robert Been (a.k.a. Robert Turner - bass, vocals), and Nick Jago (drums), combines distorted and acoustic guitars, raspy voices, and pounding drums. Think of The Jesus & Mary Chain and Velvet Underground.
Black Rebel Motorcycle Club was touring in support of their brand-spanking new release, Howl
, but they also played tunes from their previous albums, B.R.M.C.
and Take Them On, On Your Own
. For the tour, they had a fourth member along for the ride, Spike Keating (guitar). Though I have never seen these guys live, I had always enjoyed their albums. Now, they were here and I couldn't wait for them to get started.
Peter came out solo for the first couple of tunes from Howl with just an acoustic guitar and harmonica. Then, the rest of the band came out. The set was a great mix of new and old with Peter and Robert trading off the lead vocals role. They were incredible! As the set went on, the band became more and more intense. These boys are indescribable live. Simply put, Black Rebel Motorcycle Show is one band you must see before you die. As I left the club, all I was thinking is that I couldn't wait to see them again.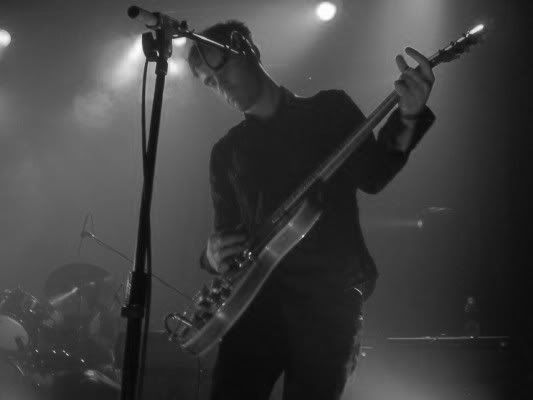 (Photo credit to Black Rebel Motorcyle Club's website)
One highlight of the evening, aside from all of the amazing tunes, was after the show, we were lucky enough to run into Peter Hayes just outside the club. Even though he was probably exhausted, just finishing an amazing performance and all, he was good natured enough to chat with us for a minute and pose for a picture with my buddy, Joe. Cool!
Full setlist (not from this show, but from a show around this time … sorry, best I can do): Complicated Situation / Fault Line / Devil's Waitin' / Shuffle Your Feet / Ain't No Easy Way / Weight of the World / Love Burns / White Palms / Whatever Happened to My Rock n' Roll (Punk Song) / As Sure As The Sun / Rise or Fall / Howl / Still Suspicion Holds You Tight / US Government / Sympathetic Noose / Promise / ENCORE / Spread Your Love / Stop / The Line / Gospel Song / Open Invitation
Whatever happened to our rock'n'roll? ...