the Band: Nathaniel Mayer, the Black Keys
the Date: Saturday November 12, 2005
the Venue: 9:30 Club (DC)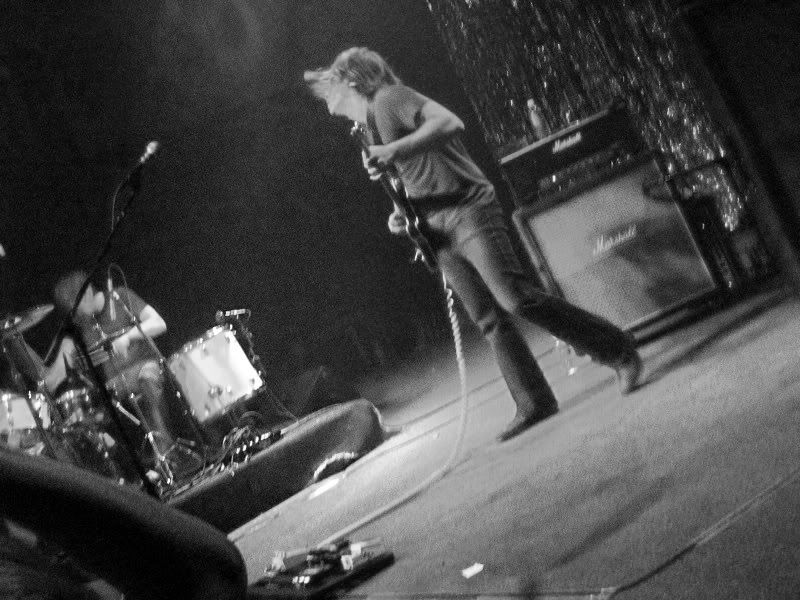 Nathaniel Mayer opened … but I missed him. Sorry, Nate.
The Black Keys were the headliners. Coming from Akron, Ohio, this minimalist rock duo, consisting of Dan Auerbach (vocals, guitar) and Patrick Carney (drums), completely rocked the 9:30 Club with their stripped-down, juke-joint sound.
I had been following these guys for a bit and after I saw their set at Lollapalooza earlier this summer, I was quickly becoming a fan. I had just picked up their DVD, The Black Keys Live
, so I was pretty jazzed to see these guys. They absolutely did not disappoint. Patrick was ferocious on the drum kit while Dan tore away on the guitar, making the strings bend and moan to his every whim. Awesome show!
Their set included songs from The Big Come Up
, Thickfreakness
, and last year's release, Rubber Factory
. I enjoyed every tune, but my favorites of the evening were Girl is On My Mind, 10 A.M. Automatic, and Till I Get My Way (the last song of the encore).
Full setlist (not from this show, but from one around this time … sorry, best I can do): No Trust / Girl Is On My Mind / Thickfreakness / 10 A.M. Automatic / She Said, She Said (Beatles cover) / The Breaks / Busted / Stack Shot Billy / Grown So Ugly (Robert Pete Williams cover) / Everywhere I Go / Set You Free / Hard Row / Have Love Will Travel (Richard Berry cover) / ENCORE / Work Me Baby (Junior Kimbrough cover) / Till I Get My Way
I'll take your hand and I'll make you understand ...