the Band: Wilco
the Date: Tuesday March 30, 2010
the Venue: Music Center at Strathmore (Bethesda, MD)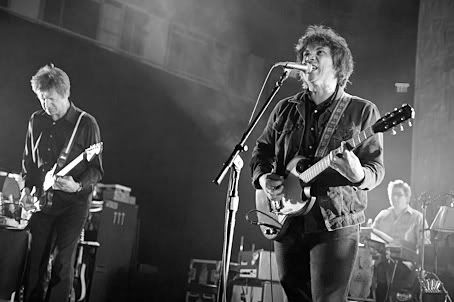 (Photo credit to Kyle Gustafson and the folks at Click Track)
Wilco played an absolutely amazing 37-song, 3-hour long, non-stop rock show. It was beautiful.
I've been a huge fan of Wilco for years. The band, made up of Jeff Tweedy (vocals, guitar), John Stirratt (bass), Nels Cline (guitar), Glenn Kotche (drums), Pat Sansone (multi-instrumentalist), and Mikael Jorgensen (keyboard), is based in Chicago so I guess I kind of look at them as fellow Midwesterners … and for that alone, they ROCK.
Jeff joked midway through the show that "the motto for this tour is 'Leave Them Wanting Less' … when you leave here tonight, you will be very full." No kidding! The show was presented in three mini-sets: an all out electric rock show … to an intimate, almost acoustic set (where the band gathered to the front of the stage which was adorned with throw rugs and floor lamps ... as if they were jamming in someone's living room) … then back to the full-blown rock show.
They played tunes from literally their ENTIRE catalog including some of the newer tunes from the most recent album, Wilco (the album)
, like Wilco (the song) and Bull Black Nova, as well as some older stuff like Passenger Side, Kamera and A Shot in the Arm. There were tons of highlights, including Via Chicago (where Glenn went nuts), Impossible Germany, Reservations (where Nels went nuts), Ashes of American Flags, Handshake Drugs, Heavy Metal Drummer (where the crowd went nuts), and I'm the Man Who Loves You. There was even a singalong when Jeff asked the crowd to sing Jesus, Etc. to him … we didn't sound so great, but it was fun.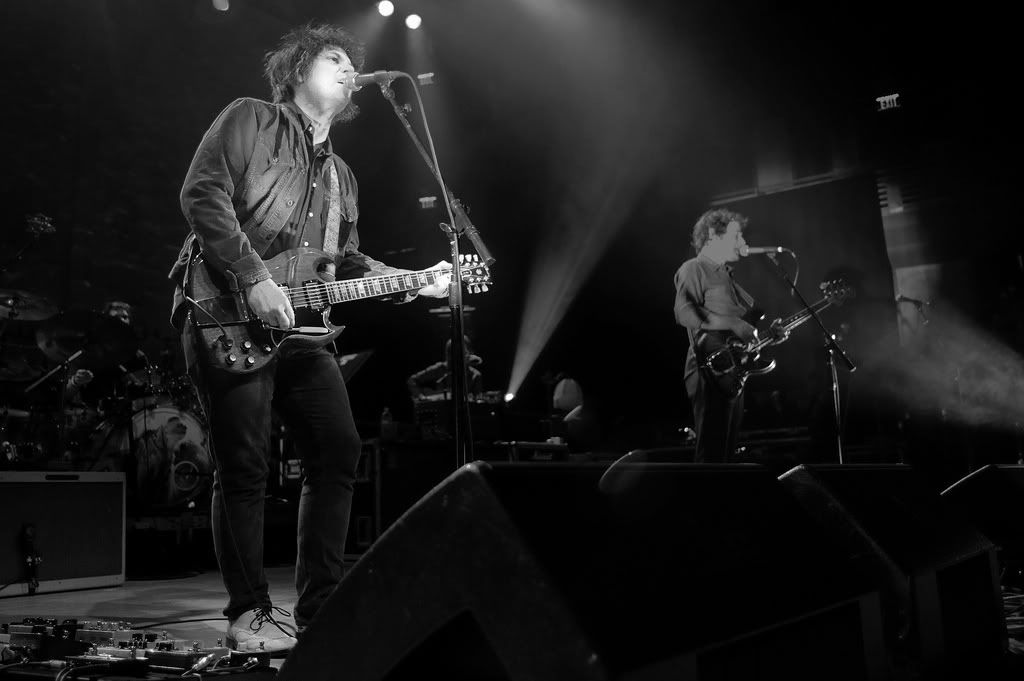 My absolute favorite moment in the night was when they played Someday Some Morning Sometime. See, long before the show, Wilco took requests via their website, WilcoWeb. I requested that song noting that it would be an early anniversary present for my wife. We married just about a year ago and used Someday Some Morning Sometime in our wedding video … we just love that sweet, sweet song. Well, when the band played that song, we knew they had heard my request. Thank you, Wilco.
Full setlist: SET 1 / Wilco (the Song) / Bull Black Nova / You Are My Face / I am Trying to Break Your Heart / One Wing / A Shot in the Arm / At Least That's What You Said / Nothingsevergonnastandinmywayagain / Deeper Down / Via Chicago / Impossible Germany / Poor Places / Reservations / SET 2 / Spiders (Kidsmoke) / When the Roses Bloom Again / Forget the Flowers / California Stars / You and I / Kamera / Someday Some Morning Sometime (at our request!) / Laminated Cat / When You Wake Up Feeling Old / Passenger Side / Airline to Heaven / SET 3 / Ashes of American Flags / Jesus, Etc. (singalong) / You Never Know / Handshake Drugs / Theologians / Heavy Metal Drummer / Hate it Here / Walken / I'm the Man Who Loves You / Thank You Friends (Big Star cover) / ENCORE / Box Full of Letters / Hoodoo Voodoo / I'm a Wheel
I'd like to hold your hand in mine
Someday some morning sometime ...