the Band: the Faint, Bright Eyes
the Date: Thursday May 26, 2005
the Venue: 9:30 Club (DC)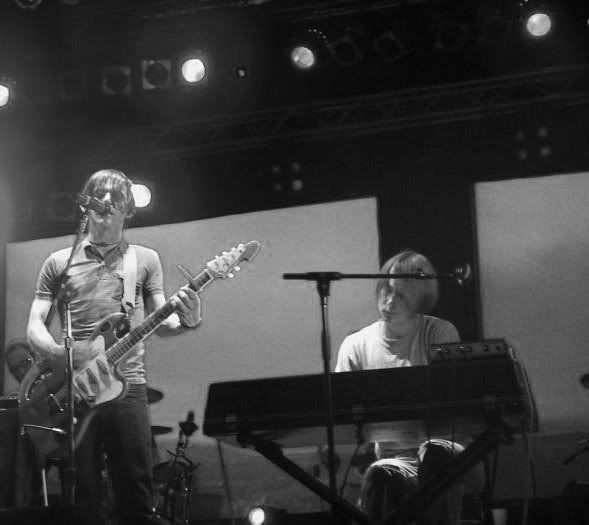 Dance-rock geniuses, the Faint, opened with a hugely energetic show. The Faint is raw, fantastic, and utterly sensational live. They were a great start to the evening.
Indie rock demi-god, Conor Oberst, took the stage with his large Bright Eyes band (i.e., the Faint plus a few others … side-note, once upon a time, Conor was a member of the Faint) in tow, eager to deliver his newest creations to his fans. Oberst had recently appeared on the Tonight Show with Jay Leno where he played this amazing song, When the President Talks to God. He had also just released two new albums simultaneously, Digital Ash in a Digital Urn
and I'm Wide Awake, It's Morning
. This was his second tour this year. Apparently, the first focused on I'm Wide Awake, It's Morning while this tour focused on Digital Ash in a Digital Urn.
I'll admit that I didn't know too much about Bright Eyes before the show, but I definitely walked away a fan … and picked up a few CDs at the merch table (again!). The band performed strongly and cleanly playing nearly every track from Digital Ash in a Digital Urn. The night's highlights included Down in a Rabbit Hole, Take it Easy (Love Nothing), Gold Mine Gutted, and Arc of Time (Time Code).
Full setlist (not from this show, but from around this time … sorry, best I can do): Time Code / Gold Mine Gutted / Arc of Time (Time Code) / Ship in a Bottle / Light Pollution / Down in a Rabbit Hole / Take it Easy (Love Nothing) / Neely O'Hara / Devil in the Details / I Believe in Symmetry /ENCORE / Lover I Don't Have to Love / Easy/Lucky/Free
There is nothing as lucky, as easy, or free …