the Band: the Morning Benders, the Black Keys
the Date: Monday July 26, 2010
the Venue: DAR Constitution Hall (DC)
(Photo credit to Chris Svetlik)
The Morning Benders
opened. They were cool. We were surprised they were able to stay out so late on a school night … I mean, these guys seriously have baby faces. They were cool though. I really liked the tune they closed with, Excuses.
(Photo credit to Kyle Gustafson)
The Black Keys were simply amazing. Dan Auerbach (vocals/guitar) and Patrick Carney (drums) are from Akron, Ohio. The blues-inspired, low-fi, modern-rock duo are one of the BEST live acts around.
Much of the first half of the show focused on the older stuff. Awesome! Then, they were joined by a bassist and keyboardist for the newer tunes off the band's newest album, Brothers
. Double-awesome! These Ohio boys did not hold back. Patrick's performance was flawless. He absolutely destroyed the drum kit and by the end of the night was completely drenched with sweat. Dan's gritty guitar playing along with his bluesy howling and wailing were simply amazing. All in all, the show was a great mix of tunes and an impressive display of the band's expansive talent.
My favorites of the night were Girl Is On My Mind, Stack Shot Billy, Strange Times, Chop and Change, Tighten Up, Your Touch, and Till I Get My Way.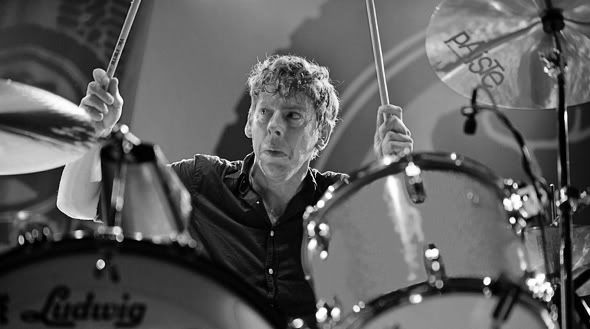 (Photo credit to Kyle Gustafson)
Full setlist: Thickfreakness / Girl Is on My Mind / 10 A.M. Automatic / The Breaks / Stack Shot Billy / Busted / Everywhere I Go / Strange Times / Same Old Thing / Everlasting Light / Next Girl / Chop and Change / Howlin' for You / Tighten Up / She's Long Gone / Ten Cent Pistol / Your Touch / I Got Mine / ENCORE / Too Afraid to Love You / Sinister Kid / Till I Get My Way
Try to ignore, try to unwind
She is on my mind …