the Band: Spoon, Arcade Fire
the Date: Friday August 6, 2010
the Venue: Merriweather Post Pavilion (Columbia, MD)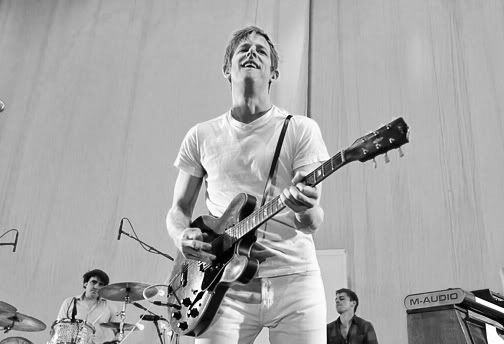 (Photo credit to Kyle Gustafson)
Spoon opened. Now bear in mind, these guys are no mere opening act. The Austin band, composed of Britt Daniels (vocals/guitar), Jim Eno (drums), Rob Pope (bass), and Eric Harvey (keyboard/guitar/percussion), played a full hour-long set of tunes pulled from the band's expansive career including their most recent release, Transference
. Spoon has always been one of those bands that can back up great albums with a great live show. Britt and the boys did not disappoint. Even though it was still light out these guys absolutely rocked. Some of my favorites were Don't You Evah, I Turn My Camera On, Don't Make Me a Target, and You Got Yr. Cherry Bomb. What an amazing start to the night. We love Spoon.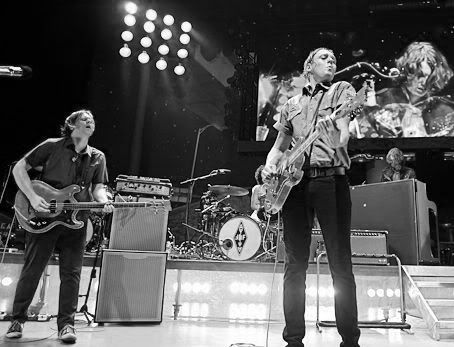 (Photo credit to Kyle Gustafson)
Arcade Fire was the main event … and the main event was spectacular! The band, based in Montreal, is fronted by the husband and wife duo of Win Butler and Régine Chassagne. Other members include Richard Reed Parry, William Butler, Tim Kingsbury, Sarah Neufeld, and Jeremy Gara. One of the amazing things about Arcade Fire is that they all switch instrumental duties throughout their shows almost giving an illusion of chaos. As my wife likes to describe them, they are the Cirque du Soleil of indie rock.
They were touring in support of their new album just released a few days prior, The Suburbs
. Some of the kinks still needed to be worked out with the new songs because the band had to abandon Half Light II (No Celebration) just after the first verse because of a drum machine malfunction. Oops.
Over the course of 95 minutes, Arcade Fire played a great mix of material from all four of their albums. Soaring, emotional, frenzied, and thoroughly enjoyable. Arcade Fire puts so much energy into their performance. It was an awesome show!
One funny moment towards the end of the night, someone had tossed a bra onto the stage ... Régine left her post, walked to the front of the stage, picked up the bra, and flung it back to the owner saying "This isn't 1987 and we're not Poison!" My wife loved it!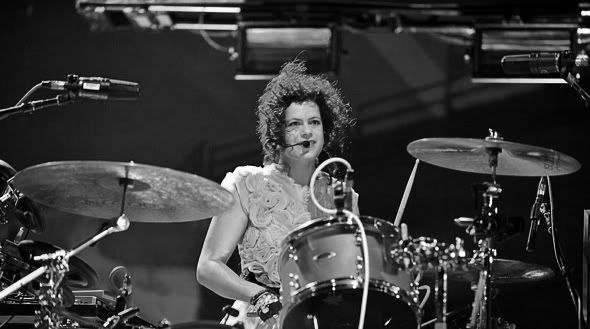 (Photo credit to Kyle Gustafson)
Though I thoroughly enjoyed the new songs, my favorites of the evening leaned toward the older tunes like Neighborhood #1 (Tunnels), Neighborhood #2 (Laika), No Cars Go, Haiti (we just love Régine and seeing her waive her impovershed and earthquake-stricken country's flag was very moving), Neighborhood #3 (Power Out), Rebellion (Lies), Keep the Car Running, and of course, Wake Up. I have to say that singing Wake Up at the very end of the night alongside thousands of fans at Merriweather was truly a magical moment.
Full setlist for Spoon: The Mystery Zone (acoustic) / Nobody Gets Me But You / Rhythm and Soul / Don't You Evah / Written in Reverse / Got Nuffin / The Ghost of You Lingers / Modern World (Wolf Parade cover) / I Turn My Camera On / Trouble Comes Running / I Summon You / Don't Make Me a Target / The Underdog / You Got Yr. Cherry Bomb / Black Like Me
Full setlist for Arcade Fire: Ready to Start / Month of May / Neighborhood #1 (Tunnels) / The Well and the Lighthouse / Half Light II (No Celebration) [only the first verse played due to drum machine failure] / Neighborhood #2 (Laika) / No Cars Go / Haiti / Sprawl II (Mountains Beyond Mountains) / The Suburbs/The Suburbs (Continued) / Modern Man / Rococo / Intervention / We Used to Wait / Neighborhood #3 (Power Out) / Rebellion (Lies) / ENCORE / Keep the Car Running / Wake Up
children wake up
hold your mistake up
before they turn the summer into dust …