the Band: the Aquarium, Beauty Pill, the Dismemberment Plan
the Date: Monday Sep 1, 2003
the Venue: 9:30 Club (DC)
It was Labor Day. Summer was officially over, but there was one night of great music yet to be had.
The Aquarium opened. They were cool. I missed part of their set.
Then Beauty Pill came on. This band is from D.C. and is made up of Chad Clark (vocals/guitar), Rachel Burke (vocals/wurlitzer), Ryan Nelson (drums), Basla Andolsun (bass), and Drew Doucette (guitar). I really liked them. I picked up a couple of their E.P.'s at the merch table.
The Dismemberment Plan was the headliner. D-Plan is another indie rock band from D.C. The band members include Eric Axelson (bass), Jason Caddell (guitar), Joe Easley (drums), and Travis Morrison (vocals/guitar). Back in January, the band announced that they were breaking up. They then went about the country on a farewell tour and they just got back from a quick tour in Japan. This night was their final show, closing out their ten year career. Fittingly, they chose to say goodbye in D.C., at the 9:30 club to a sold-out house of fans. It was awesome. They played an extra-long set and there was a lot of back and forth banter between the crowd and the band that was fun. The band had a ton of energy and clearly was having a great time. They played a fantastic set, closing out with a great version of OK, Joke's Over and ending the encore with Memory Machine. NICE!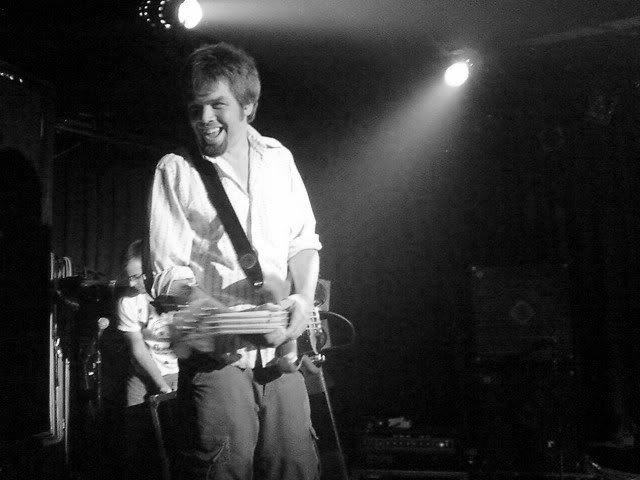 Full setlist (not from this show, but from one around this time … sorry this is the best I can do): Do the Standing Still / Following Through / Sentimental Man / Academy Award / The Dismemberment Plan Gets Rich / The Ice of Boston / The First Anniversary of Your Last Phone Call / That's Where the Party Started / What Do You Want Me to Say? / The City / 8 ½ Minutes / Come Home / Gyroscope / Onward, Fat Girl / Ellen & Ben / You Are Invited / A Life of Possibilities / Back & Forth / One Too Many Blows to the Head / ENCORE / OK, Joke's Over / Time Bomb / Memory Machine
You are invited by anyone to do anything
You are invited for all time . . .