the Band: Pearl Jam
the Date: Sun June 22, 2008
the Venue: Verizon Center (DC)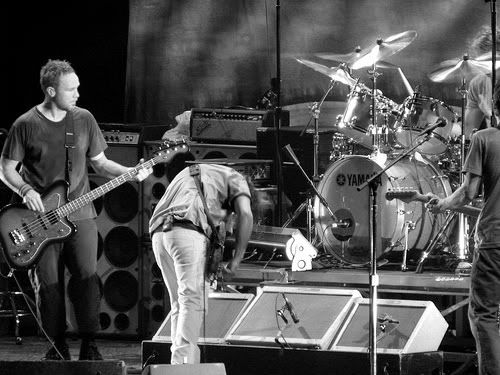 (Photo credit to Mick Arieta and his Flickr page: http://www.flickr.com/people/riotonsunset/)
Ted Leo and the Pharmacists opened ... I don't know why.
Pearl Jam took the stage around nine and after they started, we never wanted them to stop. The show was spectacular! I wouldn't say that I'm the biggest Pearl Jam fan. I mean, I can't hold a candle to my best friend, Joe (of course, he may have a few restraining orders against him as a result of his obsession with Pearl Jam). I am a fan though. In so many ways, Pearl Jam defined the type of music I listened to when I was in college. I even picked up some fashion tips from Eddie ... well, I tied a flannel shirt around my waist at least. But I digress ...
Eddie and the boys played songs from the entire Pearl Jam catalog. So many of them were my favorites, including Elderly woman Behind the Counter in a Small Town, Corduroy, Daughter, Black and Rearviewmirror ... honestly, the entire show was my favorite. Amazing energy and amazing show! Solid Rock 'n Roll!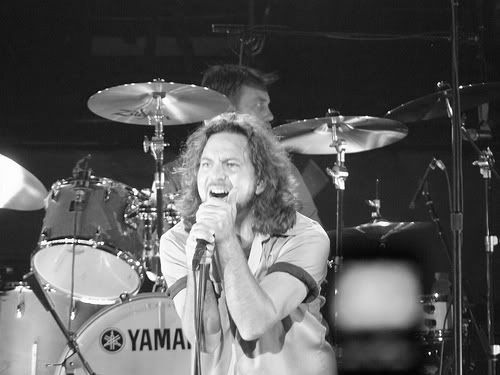 (Photo credit to syroste and his/her Flickr page: http://www.flickr.com/people/27664413@N08/)
Near the very end of the evening, Eddie introduced the newest member to the band ... Jake, who just happened to be the luckiest Pearl Jam fan in the entire world (at least for that moment). Young Jake was led to the middle of the stage, handed a guitar, shown a few chords and invited to jam with the band as they played All Along the Watchtower. Wow, talk about being in Pearl Jam Heaven!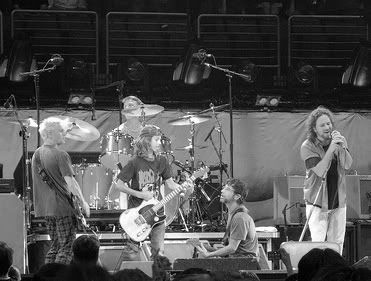 (Photo credit to jdlynch70 and his Flickr page: http://www.flickr.com/people/27879172@N04/)
Pearl Jam ended the amazing night with the ultimate fan favorite, Yellow Ledbetter ... it was fantastic.
Full setlist: Hard to Imagine / Severed Hand / Hail Hail / Do The Evolution / Elderly Woman Behind the Counter in a Small Town / Evacuation / Corduroy / I'm Open / I Am Mine / I Got Id / Daughter / Light Years / Even Flow / Green Disease / You Are / U / Who You Are / Why Go / ENCORE / Comatose / Sad / Given to Fly / Come Back / Grievance / Black / Rearviewmirror / SECOND ENCORE / No More / Last Kiss / Crazy Mary / Alive / All Along the Watchtower / Yellow Ledbetter
I want to drum it all away...