the Band: the Rogue Wave, Death Cab for Cutie
the Date: Mon June 9, 2008
the Venue: Merriweather Post Pavillion (Columbia, MD)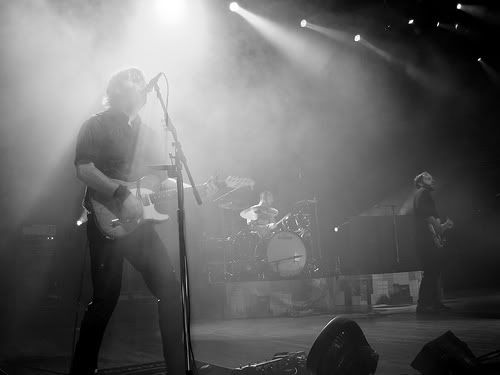 (Photo credit to Brian Firestone and his Flickr page:
http://www.flickr.com/people/27006735@N06/
)
We really didn't pay much attention to the opening band, the Rogue Wave. The portion we did hear of their set was pretty nice. Cool and mellow … nice tunes to start off the evening.
The main attraction was Death Cab for Cutie. The boys from Seattle, Ben Gibbard (vocals, guitar), Chris Walla (guitar), Nick Harmer (bass guitar), and Nathan Good (drums) put on a great performance. Considering they have seven albums including this year's release, Narrow Stairs
, the band did a great job of sampling the breadth and depth of their catalog. My personal favorites were I Will Follow You into the Dark, the drawn-out version of Cath…, and of course, Transatlanticism (great ending tune … even though it wasn't a rocker). You know, there's nothing quite like sipping margaritas on a summer evening with the blanket spread out on the lawn of Merriweather and having Ben Gibbard serenade you and the one you love. Aaawww, it makes my heart melt just like all the chocolate liqueur candies we ate.
Full setlist: Bixby Canyon Bridge / The New Year / Why You'd Want to Live Here / Photobooth / Crooked Teeth / Long Division / Grapevine Fires / A Movie Script Ending / Company Calls / Company Calls Epilogue / Soul Meets Body / I Will Follow You Into the Dark / I Will Possess Your Heart / Cath... / Pictures in an Exhibition / The Sound of Settling / Marching Bands of Manhattan / ENCORE / Your Bruise / Title and Registration / No Sunlight / Tiny Vessels / Transatlanticism
I've got a hunger, twisting my stomach into knots ...