the Band: the Montana Boys, the Breeders
the Date: Wed June 11, 2008
the Venue: 9:30 Club (DC)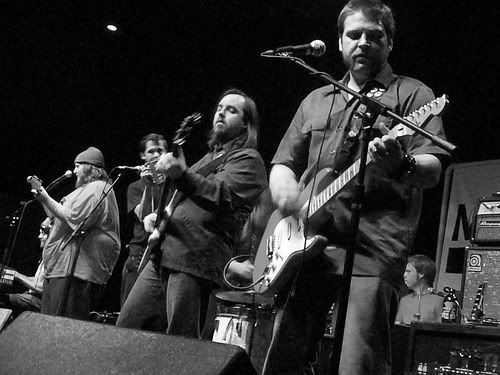 (Photo credit to Angela N. and her Flickr page:
http://www.flickr.com/photos/aon/
)
The opener was a five-piece rock and roll sort of jam band called the Montana Boys … from Grand Rapids, Michigan. These guys brought on the noise and the funk. Not really my cup of tea, but they sure looked like they were having a great time on stage. How could they not when they were touring with the Breeders?!
(Photo credit to Bao Nguyen and his Flickr page:
http://www.flickr.com/people/baonguyen/
)
The main attraction, the featured act, really the only reason we all showed up was the Breeders. Now a quick history lesson for some of you … back in the early 90's, Kim Deal, bass guitarist for the Pixies, got together with Tanya Donelly of Throwing Muses … they formed the Breeders … a bit later Kim's twin sister, Kelley Deal, joined the Breeders and Tanya left to form another band called Belly … the Breeders took a break when Kelley was busted for drug possession and went into rehab … while Kelley was in rehab, Kim formed a band called the Amps … meanwhile Kelley formed her own band called Kelley Deal 6000 … then later the sisters teamed back up to reform the Breeders. The current members are Kim Deal (guitar, vocals), Kelley Deal (guitar, vocals), Jose Medeles (drums), Mando Lopez (bass), and Cheryl Lyndsey (guitar … by the way, Kim told us they found Cheryl through a craigslist ad).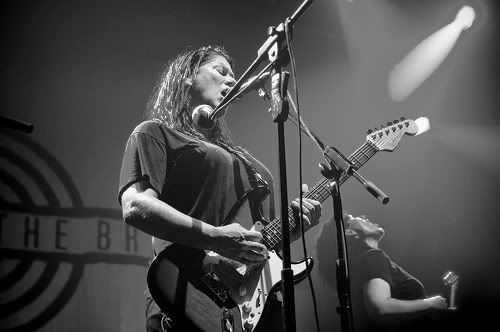 (Photo credit to Brad Searles and his Flickr page:
http://www.flickr.com/people/bsearles/
)
The show was AMAZING. The stage setup was really cool … all the members next to each other in front of a wall of amps, no one member in front of another. Who knows what exactly prompted that setup, but it seemed to be a sweet gesture showing the audience that it wasn't just Kim and Kelley with a supporting band, but that it was all about the Breeders! They sounded GRRREAT. There is something about the harmonizing voices of the Deal twins … cute and husky at the same time. This was definitely the best Breeders show I've seen. Though it's been a few years since they toured last, this show topped both the August 7, '02 show at Nation in DC and the August 12, '02 show at Numbers in Houston.
Though focusing on tunes from this year's release Moutain Battles
, the setlist covered the entire Breeders catalog and even included some tunes from the Amps. My favorites (if there is such a thing as a favorite among favorites) were Huffer, No Aloha, Happiness is a Warm Gun, and the tear-jerker Here No More (apparently written about Kim and Kelly's mom and Alzheimer's disease). We just simply could not get enough. But you know what I love about the Breeders? EVERYTHING!
Full setlist: Tipp City (the Amps) / Huffer / Bang On / Shocker in Gloomtown (Guided by Voices cover) / Divine Hammer / Night of Joy / No Aloha / Pacer (the Amps) / We're Gonna Rise / It's the Love (the Tasties cover) / Walk it Off / New Year / Cannonball / I Just Want to Get Along / Happiness Is a Warm Gun (Beatles cover) / Safari / Iris / German Studies / Empty Glasses (the Amps) / ENCORE / Overglazed / Drivin' on 9 / Here No More / Saints
I like all the different people, I like sticky everywhere, Look around, you bet I'll be there ...