the Band: the Black Lips, the Raconteurs
the Date: Wed May 28, 2008
the Venue: 9:30 Club (DC)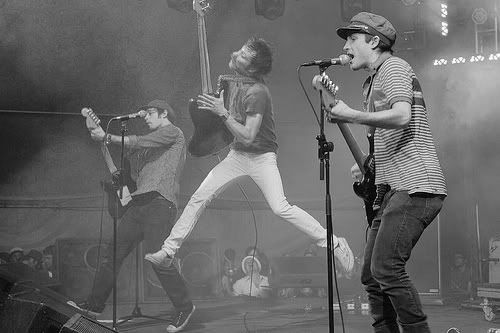 (Photo credit to Danny North and his Flickr page:
http://www.flickr.com/people/dannynorth/
)
Just a quick word on the opening band, the Black Lips … to quote someone from the 9:30 Club chat room, "I'm not convinced anyone in the band actually knows how to play guitar … just a lot of noise and some occasional off-key singing." I actually like occasional off-key singing like Clap Your Hands Say Yeah, but I didn't really care for the Black Lips.
(Photo credit to hobogirl923 and her Flickr page:
http://www.flickr.com/people/10875560@N07/
)
After the stage was reset by some rather well dressed roadies (I'm talking ties and fedoras), the main event came on stage around ten-ish and Holy Crap they were amazing! The Raconteurs, made up of Jack White, Brendan Benson, Jack Lawrence, and Patrick Keeler, along with additional help from sideman, Mark Watrous, are easily one of the most explosive rock bands around and they definitely earned that designation on the second of their two-night stay at the 9:30 Club. I mean, these guys Freakin' Rawked! Many of the songs were from this year's release, Consolers of the Lonely
, including Hold Up, The Switch and the Spur, These Stones Will Shout and Rich Kid Blues (awesome to hear live). There were still a number of tunes from their first album, Broken Boy Soldiers
. Among them, was a drawn-out version of Steady As She Goes, a haunting performance of Blue Veins, and a kick-you-in-the-ass rendition of Intimate Secretary. The energy really never let up the entire night. From Consolers of the Lonely (the first track of the new album) to Carolina Drama (the last track on the new album), the Raconteurs held nothing back as they played for nearly two full hours! It was evident that the audience couldn't get enough either cuz rarely have we seen a D.C. crowd so charged and lively on a school night. Suffice it to say that from wherever they may have originated - Nashville, Detroit or Cincinnati, the Raconteurs are loved in D.C.
Well now you heard another side to the story, but you wanna know how it ends, if you must know the truth about the tale go and ask the milkman...