the Band: Radiohead
the Date: Sun May 11, 2008
the Venue: Nissan Pavilion (Bristow, VA)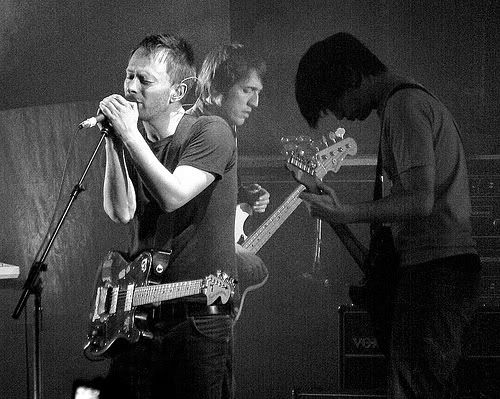 (Photo credit to Chris Dearnley and his Flickr page:
http://www.flickr.com/photos/chrisdearnley/
)
As the ticket said the show was rain or shine … and boy did it ever rain. Despite the monsoon weather, the horrible traffic and the hypothermia, the show was AMAZING. What a performance! Radiohead is definitely a band to see even if you need to suffer the elements. The lads focused most of their setlist on the most recent release, In Rainbows
, but thankfully they played a few of my personal favorites such as Paranoid Android, Everything In Its Right Place, Pyramid Song, Idioteque, The National Anthem, Fake Plastic Trees and of course Karma Police (okay, so I have a lot of favorite Radiohead songs). One of my favorite moments of the evening (aside from the fleeting moments when I felt dry … or numb) was when my fiancée described Thom Yorke as a funny, crazy, little man dancing on the stage. We love you Thom. You're welcome back any time … just please, please use a different venue.
Full setlist (with big help from the Rockist Society): All I Need / Jigsaw Falling Into Place / Lucky / 15 Step / Nude / Pyramid Song / Weird Fishes/Arpeggi / Myxomatosis / Idioteque / Faust Arp / Videotape / Paranoid Android / Just / Reckoner / Everything In Its Right Place / Bangers + Mash / Body Snatchers / ENCORE / Like Spinning Plates / Optimistic / Karma Police / Go Slowly / Planet Telex / SECOND ENCORE / Fake Plastic Trees / The National Anthem / House of Cards