the Band: the Buffalo Killers, the Black Keys
the Date: Tue May 13, 2008
the Venue: 9:30 Club (DC)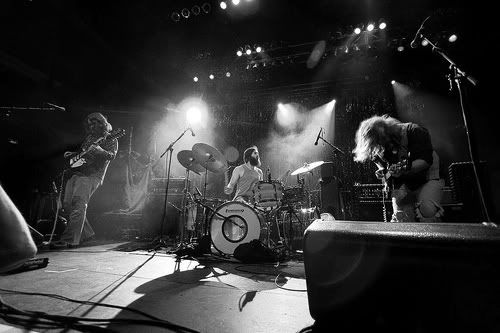 (Photo credit to Kyle Dean Reinford and his Flickr page:
http://www.flickr.com/photos/kyledeanreinford/
)
The opener was the Buffalo Killers. Brothers Andrew and Zachary Gabbard along with drummer, Joseph Sebaali make up the facial-hair-blessed trio. Great classic rock sound! They provided an excellent complement to the Black Keys. Homegrown was my favorite tune (now, what could that song be about? as Dan Auerbach said later in the night, "those guys smoke a lot of weed"). I even pretended to know the words as I sang along out loud … or maybe that was just the Johnny Walker. Regardless, it was a solid, solid start.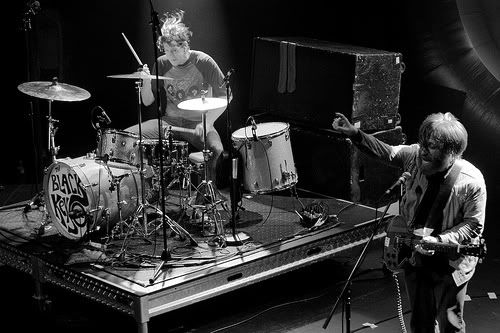 (Photo credit to Clint Au and his Flickr page:
http://www.flickr.com/photos/clintau/
)
The band we all came to see was the Black Keys. This is truly one of my favorite blues-based, lo-fi duos (you know that genre, see the White Stripes). Seriously though, these guys, seriously rock. What a great show! Singer-guitarist Dan Auerbach and drummer Pat Carney held nothing back as they blazed an hour and a half long trail through their now five albums, including this year's Attack and Release
. There was even one song that featured Danny boy behind a keyboard-sort-of-thing that, through some miracle of modern science, sounded like a guitar! My personal favorites of the night were 10 AM Automatic, Your Touch and the evening ender Till I Get My Way. Who knew that it was so cool to be from Akron, Ohio?
And, thanks to NPR, you can listen to a taping of the entire show: http://www.npr.org/templates/story/story.php?storyId=90270955
Full setlist: Girl Is on My Mind / Set You Free / Thickfreakness / 10 AM Automatic / Same Old Thing / Stack Shot Billy / Busted/You're the One / Strange Times / Oceans and Streams / Your Touch / The Breaks / Remember When / I'm Glad / No Trust / I Got Mine / ENCORE / Psychotic Girl / Till I Get My Way
Don't you know that I will be callin' on you everyday TILL I GET MY WAY ...