the Band: My Morning Jacket
the Date: Wed September 3, 2008
the Venue: DAR Constitution Hall (DC)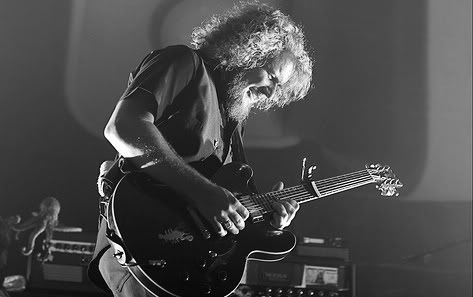 The show marketed as "An Evening with My Morning Jacket" was just that, an entire evening with the main attraction. That was a nice change from the traditional show. I knew that I could concentrate solely on Jim James and the boys from start to finish. I would not have to watch an opener (that I'd probably never heard of) and then wait about twenty minutes while they switch out the instruments. Now I don't have anything against sitting through the traditional opening act. In fact, I find myself discovering new music through watching the opening bands. That's exactly how I found out about Centro-Matic … they opened for My Morning Jacket a few years back. Now, I'm a big Centro-Matic fan.
The band hails from Louisville, Kentucky and comprises Jim James (vocals, guitar), Tom "Two-Tone Tommy" Blankenship (bass), Patrick Hallahan (drums), Carl Broemel (guitar, vocals), and Bo Koster (keyboard, vocals). My Morning Jacket, or MMJ for those of us who celebrate the brevity of the blog, has a unique sound that ranges from their alt-country rock roots, full of guitar with heavy reverb (think Neil Young) to more experimental rock full of keyboards (think Prince). They are an amazing band to see live in an open air setting, like Bonnaroo or Lollapalooza.
Anyways, the Evening with My Morning Jacket was good … not great. The show was over 2.5 hours! So they deserve my praise for that alone, but to be honest, this wasn't my favorite MMJ show of all time. Though I really like these guys, I'm just not a huge fan of their latest release Evil Urges
. Many of the night's tunes came from that album. I mean, they played nearly that entire album. Thankfully, they played tons of other songs too including some of my favorites, Off the Record, Anytime, Golden, Gideon, Lay Low and, of course, One Big Holiday. It's also worth noting that they played Cobra, a rare tune off of the band's Chocolate & Ice
EP … that's like a 20 minute song!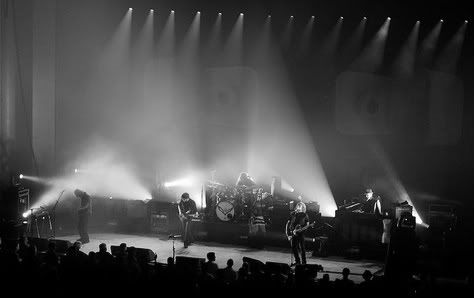 Full setlist: Evil Urges / Anytime / Off the Record / Touch Me I'm Going to Scream Part 1 / Two Halves / Golden / Thank You Too! / I'm Amazed / The Way That He Sings / Sec Walkin / War Begun / Phone Went West / Cobra / Librarian / Dondante / Gideon / Lay Low / Steam Engine // Wordless Chorus / Highly Suspicious / Smokin from Shootin / Touch Me I'm Going to Scream Part 2 / Run Thru / One Big Holiday
if we holler loud and make our way
we'd all live one big holiday ...