the Band: Golem, the Walkmen
the Date: Sat September 6, 2008
the Venue: 9:30 Club (DC)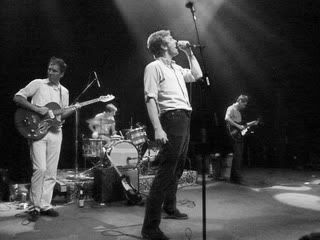 (Photo credit to someone on the internet)
We completely missed Golem. Sorry guys. Unfortunate because we heard they were a band inspired by Eastern European and Jewish klezmer folk music.
We were there for the Walkmen. The Walkmen was formed back in 2000 by three members from Jonathan Fire Eater (Walter Martin (vocals, organ, bass), Paul Maroon (guitar), and Matt Barrick (drums)) and two from the Recoys (Hamilton Leithauser (vocals, guitar) and Peter Bauer (organ, bass)). All of the members grew up together in the Washington, D.C. area and have played in the same bands since the fifth grade! Walter and Hamilton are cousins too.
Anyways, Hamilton and the boys played a great show to this large, hometown crowd. It was a solid collection of songs that mixed classics with some of the newer tunes off of their recent release, You & Me
. My favorites of the evening included What's in It for Me?, Wake Up, Louisiana, The Rat, Little House of Savages, Long Time Ahead of Us, and In the New Year (where Hamilton's voice crescendoed into a scream in the chorus). It was just an amazing performance from a band that I love. We even had a surprise guest appearance from Peter's little boy. Awwwww.
Full setlist: New Country / On the Water / In the New Year / Canadian Girls / Thinking of a Dream I Had / Wake Up / Long Time Ahead of Us / Donde Esta la Playa / All Hands and the Cook / Red Moon / The Rat / What's in It for Me? / I Lost You / Louisiana / ENCORE / Four Provinces / Little House of Savages
If you don't like it, Won't you tell me? ...