the Band: the Whigs, We Are Scientists, Kings of Leon
the Date: Mon November 10, 2008
the Venue: DAR Constitution Hall (DC)
The Whigs were the first band. I totally missed their show. Bummer! I heard they were great.
Second on the bill was We Are Scientists. Despite the ambivalent response from the typical D.C. stay-in-your seat crowd, they put on a great set. I knew I liked them from seeing them a few years ago at the Black Cat. My favorite was Nobody Move, Nobody Get Hurt … of course.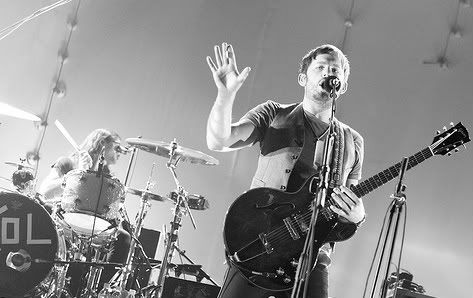 Kings of Leon was the main attraction. The band consists of three brothers, Anthony "Caleb" Followill (vocals, guitar), Ivan "Nathan" Followill, and Michael "Jared" Followill (bass), and a cousin, Cameron "Matthew" Followill (guitar). I've seen them many times before and they are one of my favorite Rock 'n Roll bands. They did not disappoint this night, these Tennessee boys were amazing! They were promoting their latest release, Only by the Night
, but their set spanned all four of their albums. My favorites of the night were Closer, Taper Jean Girl, Milk, Use Somebody, On Call, Slow Night, So Long, Knocked Up, and Charmer.
Full setlist for Kings of Leon: Closer / Crawl / My Party / Razz / Molly's Chambers / Taper Jean Girl / King of the Rodeo / Sex On Fire / Fans / Revelry / Milk / Four Kicks / The Bucket / McFearless / Use Somebody / On Call / Cold Desert / Slow Night, So Long / ENCORE / Knocked Up / Manhattan / Charmer / Black Thumbnail
I ain't too proud to say that's how I'm made ...