the Band: the Acorn, Calexico
the Date: Thu November 13, 2008
the Venue: 9:30 Club (DC)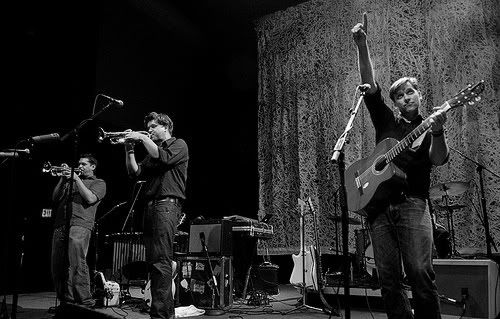 The Acorn opened. We missed them, but heard they put on a great show.
Calexico was the headliner. The 9:30 Club was the perfect setting for the group's intricate music, which has been described as mariachi-punk, sepia-toned indie-rock, or desert twang. However you describe them, they are nothing short of amazing. The Tuscon-based band consists of Joey Burns (vocals, guitars), John Convertino (drums), Paul Niehaus (steel pedal guitar), Jacob Valenzuela (trumpet), Martin Wenk (trumpet), and Volker Zander (bass).
They concentrated on Carried to Dust
, Calexico's most recent release, but they were sure to play many of the fan favorites. Of all the Calexico shows I've seen, this was the best. The rest of the crowd seemed to love the show too. There was plenty of dancing and the gritos were howled … Aaahhhuaaaayiiii! My personal highlights of the evening were Roka, Sunken Waltz, Two Silver Trees, El Gatillo (Trigger Revisited), Alone Again Or, and the final song of the evening, Guero Canelo.
Full setlist: Sanchez / Roka / Bend To The Road / Across The Wire / Jesus and Tequila (Minutemen cover) / Writer's Minor Holiday / Sunken Waltz / House of Valparaiso / Two Silver Trees / El Gatillo (Trigger Revisited) / Stray / Inspiracion / Cruel / Quattro (World Drifts In) / The News About William / Alone Again Or (Love cover) / Fractured Air / ENCORE / Minas de Cobre (For Better Metal) / Victor Jara's Hands / Guero Canelo
Tossed a Susan B over my shoulder …