the Band: the Bennies, David Lovering, the Reid Paley Trio, Frank Black & the Catholics
the Date: Sat November 23, 2002
the Venue: Black Cat (DC)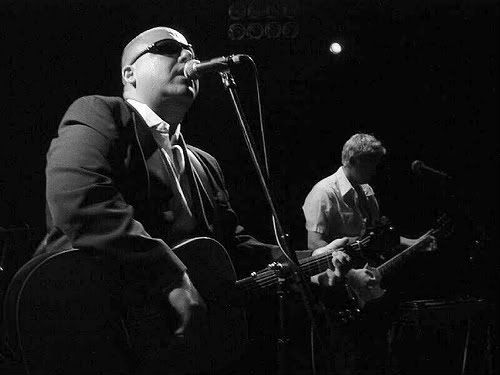 (Photo credit to someone on the internet)
Holy Crap! I totally missed the opening acts including, the Bennies, the Reid Paley Trio, and David Lovering, who performed his magic/science show!! For those who know their Pixies history, Lovering was the band's drummer. I heard his show was something between a mad scientist and performance art. Cool! I picked up a couple of cds for the Bennies and Reid Paley at the merch table, but I was still bummed to be so late.
Frank Black & the Catholics were amazing. Great show. I think I still enjoyed the time I saw them in Houston back in April a bit more, but this was a great show. They were supporting their two recent albums released simultaneously, Devil's Workshop
and Black Letter Days
. My favorites of the evening were Cactus, Monkey Gone to Heaven, All My Ghosts, and 85 Weeks. It was a long set … awesome!
Full setlist: All the Tired Horses / Gouge Away / Freedom Rock / There Goes Nadine / How You Went So Far / Cactus / Men in Black / Black Letter Day / Steak n Sabre / Monkey Gone to Heaven / Bullet / Southbound Bevy / California Bound / Cold Heart of Stone / Manitoba / Whiskey in Your Shoes / Velvety / Hermaphroditos / I've Seen Your Picture / Horrible Day / All My Ghosts / Solid Gold // ENCORE // Farewell Blend / Valentina & Garuda / 85 Weeks / End of Miles / Dirty Old Town (Ewan MacColl cover)
Sitting here wishing on a cement floor
Just wishing that I had just something you wore . . .