the Band: On!Air!Library!, Secret Machines, Interpol
the Date: Tuesday November 9, 2004
the Venue: 9:30 Club (DC)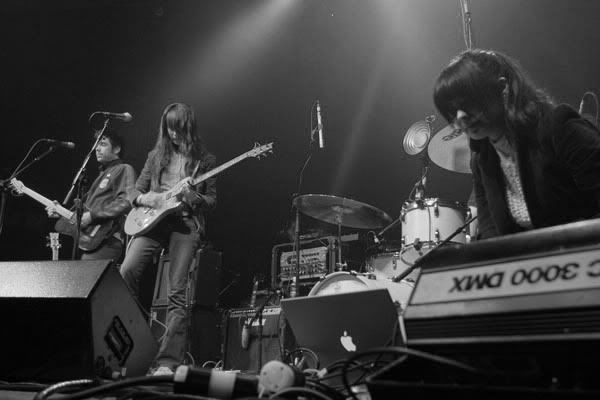 (Photo credit to the On!Air!Library! website)
A trio of NYC bands rocked the 9:30 club. For a few short hours, I knew what it was like to be a real New Yorker … okay, not really, but I did witness some of the best new music coming out of the Big Apple. It was awesome!
On!Air!Library! was the first band to play. This NYC band consists of twin sisters, Claudia and Alley Deheza, and Phillip Wann. They put out some hazy, hallucinating, and haunting tunes anchored only by the edgy harmonies from the Deheza sisters. It was shoegazing at its finest. I really liked them and picked up their self-titled album
at the merch table. It was a great start to the night.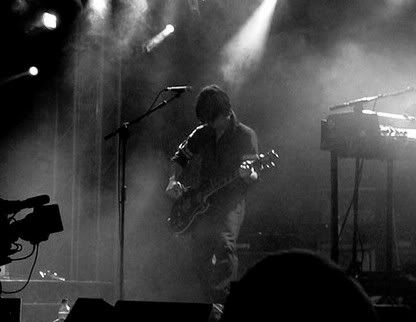 Secret Machines were next. This NYC band (actually, I think they're from Texas, but broke out in NYC), made up of brothers, Ben (guitar) and Brandon Curtis (vocals/bass/keyboard), and Josh Garza (drums), played a fantastic live set. Josh absolutely obliterated his drum kit with his Slash-like hair bobbing away and Brandon passionately handled keyboard and vocal duties. But, it was Ben who was really on fire this night -- he just tore it up.
The Secret Machines didn't feel at all like an opening act for Interpol. They seemed more like contemporaries who happened to play on the same night .. in the same club (they even had near identical set lengths!). My favorites of the night were, First Wave Intact (awesome tune to start their set!), Sad and Lonely, It's a Bad Wind that Don't Blow Somebody Some Good (from their September 000 EP), Still See You, The Road Leads Where It's Lead, and Now Here Is Nowhere.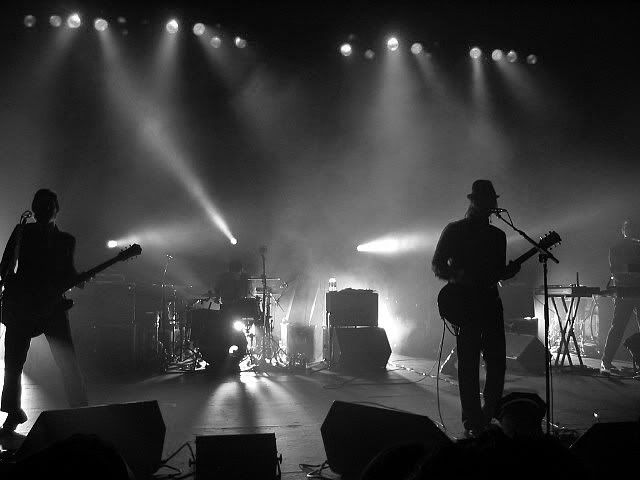 This was my first time seeing Interpol and I was pretty amped up. Interpol was phenomenal! This NYC band, consisting of Paul Banks (vocals/guitar), Daniel Kessler (guitar/vocals), Carlos Dengler (bass/keyboards), and Sam Fogarino (drums), put on a fantastic show … in uber-fashionable Italian suits too! The renditions of each song was perfect -- taut rhythms and an intense performance. I mean, these guys sound just as perfect live as they do on their studio-produced albums.
On a side note, Daniel Kessler spent some time growing up in the DC are and graduated from Bethesda Chevy Chase High School. Cool!
Their set was a great mix of tunes from their original album, Turn on the Bright Lights
, and their recent release, Antics
. My favorites included Hands Away, Evil, and Not Even Jail. But the highlight of the concert, however, was PDA, which the band executed with seemingly effortless gusto. It was just an amazing night of tunes from the city that never sleeps ... Hey, New York, thanks for the little tast of insomnia!
Full setlist: Next Exit / Evil / Say Hello to the Angels / Public Pervert / Length of Love / Not Even Jail / Hands Away / NYC / Slow Hands / Narc / PDA / ENCORE / Leif Erikson / Obstacle 1
Rosemary, Heaven restores you in life …