the Band: the Screaming Females, the Dead Weather
the Date: Monday, July 13, 2009
the Venue: 9:30 Club (DC)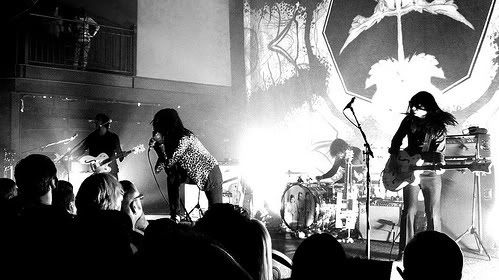 The Screaming Females opened. Not my cup of tea … at all.
The Dead Weather was the main attraction. The band is made up of Allison Mosshart (the Kills), Jack White (the White Stripes and the Raconteurs), Dean Fertita (Queens of the Stone Age), and Jack Lawrence (the Raconteurs) who while touring together a couple years ago, they just decided what the hell, let's make another band.
I've been blown away by previous shows of the White Stripes and the Raconteurs and I'm a big fan of the Kills and Queens of the Stone Age. This show was just, um … okay. The tunes were from the Dead Weather's debut album, Horehound
. The band put forth lots of energy, but there were only a handful of songs that I really enjoyed. I wouldn't say a full-on disappointment, but I just didn't walk away thinking, "Wow, I can't wait until this band comes back to town."
Nonetheless, I'm glad NPR recorded the entire show and saved it here: http://www.npr.org/templates/story/story.php?storyId=106385053
Full setlist: 60 Feet Tall / Bone House / Outside / So Far From Your Weapon / Cut Like a Buffalo / Forever My Queen (Pentagram cover)/ Rocking Horse / New Pony (Bob Dylan cover)/ No Hassle Night / Will There Be Enough Water / ENCORE / Treat Me Like Your Mother / Child of a Few Hours / Hang You From The Heavens
Now let me drag you by your hair ...