the Band: Jon Spencer Blues Explosion
the Date: Tue April 30, 2002
the Venue: Numbers Night Club(Houston)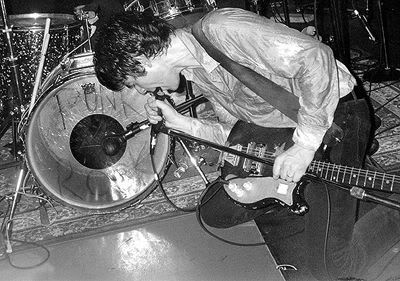 (Photo credit to someone on the internet)
Russell Simins on drums. Juda Baeur on guitar. Jon Spencer on vocals. This is Jon Spencer Blues Explosion (JSBX). Punk/Blues Rock at its finest. These boys utterly destroyed Numbers.
Awesome, awesome show. Many of the tunes revolved around their latest release Plastic Fang
. JSBX still mixed it up with older tunes as well. My favorites were She Said, Wail, and Afro. Later in the show Jon indulged in some of his trademark theremin play. Wacky, but he spoke to my soul with that theremin.
Full setlist (not from this show, but from a show around this time … sorry, best I could do): Tore Up and Broke / Ghetto Mom / Afro / Point of View / High Gear / Wail / Money Rock 'n Roll / Mother Nature / Hold On / She Said / Down in the Beast / Shakin' Rock 'n Roll Tonight / Attack / Blues X-Man / The Midnight Creep // ENCORE // Chowder / Sweet n Sour / Mean Heart / Like a Bat / Magical Colors / Killer Wolf
baby, have mercy
please don't be unkind . . .