the Band: the Breeders
the Date: Wed August 7, 2002
the Venue: Nation (DC)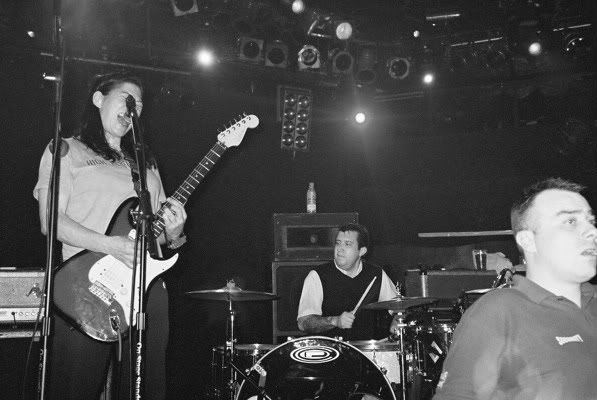 (Photo credit to someone on the internet)
The Breeders, newly reunited after taking a break in 1995 and now consisting of twin sisters, Kim and Kelley Deal, backed by bassist Mando Lopez, guitarist Richard Presley, and drummer Jose Medeles, put on an amazing show. While some of the focus was on their new release, Title TK
, many of the tunes came from the 1993 album, Last Splash
.
It was a great show. My favorites were Cannonball, Divine Hammer, Fortunately Gone, Hellbound, and of course Drivin' on 9 when Kelley did her best to play the violin. They also played the theme song to the TV show Buffy the Vampire Killer and Angry Inch from the glam-rock musical Hedwig and the Angry Inch. For Angry Inch, they had Michael Cerveris, who has handled the title role in the actual musical, act as guest vocalist. That was awesome!
Full setlist (not from this show, but from a show around this time … sorry, best I could do): Tipp City / Huffer / Saints / Little Fury / Flipside / Head to Toe / I Just Want to Get Along / Off You / Cannonball / Safari / Hellbound / No Aloha / Full On Idle / Son of Three / Pacer / Drivin' on 9 / The She / Theme from Buffy the Vampire Slayer/ Fortunately Gone / Angry Inch // ENCORE // Divine Hammer / Iris / I Don't Care About You
does daddy have a shotgun
he said he'd never need one . . .