the Band: Willy Mason, Centro-Matic, My Morning Jacket
the Date: Thursday September16, 2004
the Venue: Engine Room (Houston)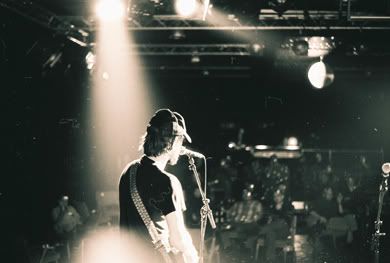 It was just before the weekend of the Austin City Limits Music Festival. Luck for us, a few of the bands playing ACL came down to Houston for a quick show.
Willy Mason opened. He was chill.
Centro-Matic was next. I had never heard of this band before, but once they started playing, I became an instant fan. Centro-Matic is out of Denton, Texas and consists of Will Johnson (vocals/guitar), Matt Pence (drums), Scott Danborn (piano/violin), and Mark Hedman (bass). They put on an awesome show. Will Johnson had this rich, smoky toned voice that was just amazing. This was alt-country at its finest. My favorite tune of theirs was Love You Just the Same. I picked up a short stack of their CDs at the merch table.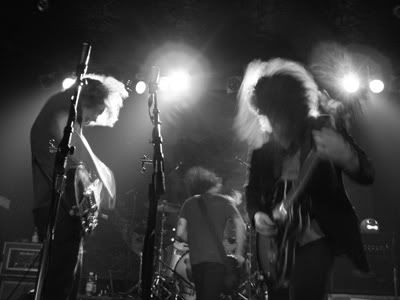 My Morning Jacket was the headliner. The band, made up of Jim James (vocals/guitar), Tom Blankenship (bass), Patrick Hallahan (drums), Carl Broemel (guitar), and Bo Koster (keyboard), is out of Louisville, Kentucky. I had heard of My Morning Jacket and even had one of their CDs, Acoustic Citsuoca
. Even then, I wasn't prepared for what I was about to experience. I was absolutely blown away. I really enjoyed seeing hairball, Jim James, wearing a blazer (a.k.a. his morning jacket) and just rocking the hell out of the Engine Room.
There were a few songs, Golden, Death Is the Easy Way, and Bermuda Highway, where the lead singer from Centro-Matic, Will Johnson (with a can of beer in his hand and a trucker cap on his head), came out to join Jim James. The duo's fuzzed-out harmonies were truly something to see. This was the perfect combination and my favorite moments of the night. What an incredible night of Southern Rock n' Roll!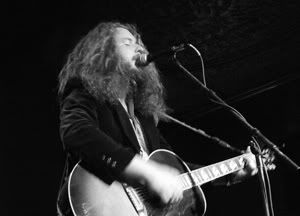 Full setlist (not from this show, but from a show around this time … sorry, best I could do): How Could I Know (Oxen) / Just One Thing / It Beats 4 U / Lowdown / The Way That He Sings / Golden (w/Will Johnson) / Death Is the Easy Way (w/Will Johnson) / Bermuda Highway (w/Will Johnson) / How Do You Know / One Big Holiday / Strangulation / Dancefloors / Mahgeetah / ENCORE / Cobra / Steam Engine / Run Thru
Oh, don't carve me out, don't let your silly dreams
Fall in between the crack of the bed and the wall …