the Band: the Roots, Wilco
the Date: Sunday June 26, 2005
the Venue: Merriweather Post Pavilion (Columbia, MD)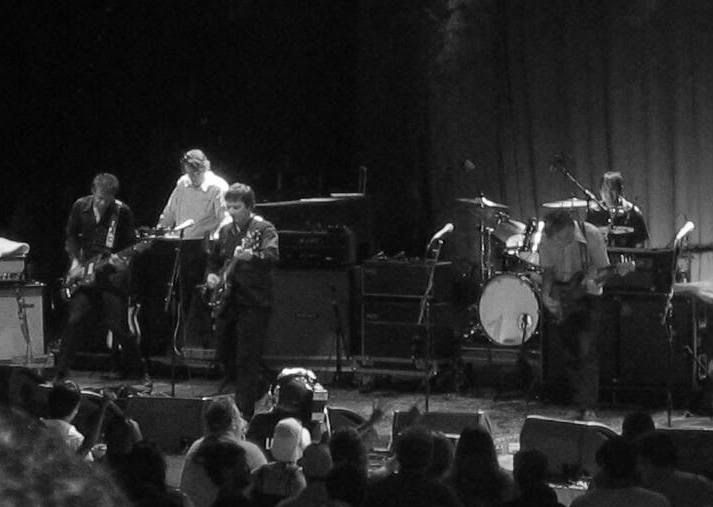 The Roots opened. Totally missed them. Damn.
Wilco was the main event. They had recently played an amazing show at the 9:30 club back in February. Now in this outdoor venue, the wonderful weather seemed to feed the band's energy. Wilco consists of Jeff Tweedy (vocals, guitar), John Stirratt (bass), Nels Cline (guitar), Glenn Kotche (drums), Pat Sansone (multi-instrumentalist), and Mikael Jorgensen (keyboard).
They played an amazing set, focusing mainly on songs from the band's last two albums, A Ghost is Born
and Yankee Hotel Foxtrot
. This provided amazing tunes, but some of the evenings best offerings came from older material.
My favorites of the evening were I Am Trying to Break Your Heart, Hummingbird, Sunken Treasure, Heavy Metal Drummer, I'm the Man Who Loves You (where Nels absolutely destroyed the guitar), Jesus, Etc., Kingpin, The Late Greats, and I'm a Wheel … whew! I have a lot of favorites.
One of the highlights of the night, above and beyond the tunes, was when a very kind, very pregnant couple gave us their pavilion seats saying that it was too loud being up close to the stage for their unborn baby. Thank you, baby. Those seats were AMAZING!
Full setlist: Handshake Drugs / Company In My Back / Airline to Heaven (Woodie Guthrie cover) / A Shot In the Arm / I Am Trying to Break Your Heart / War On War / Hell Is Chrome / Hummingbird / At Least That's What You Said / Sunken Treasure / Muzzle of Bees / Kamera / Heavy Metal Drummer / I'm Always In Love / I'm the Man Who Loves You / Reservations / Spiders (Kidsmoke) / ENCORE 1 / Misunderstood / Jesus, Etc. / Kingpin / The Late Greats / ENCORE 2 / Monday / Outtasite (Outta Mind) / I'm a Wheel / Something in the Air (Thunderclap Newman cover) / I Shall Be Released
If I could you know I would just hold your hand and you'd understand
I'm the man who loves you …