the Band: Damone, Further Seems Forever, the Juliana Theory, the Ataris
the Date: Monday April 28, 2003
the Venue: 9:30 Club (DC)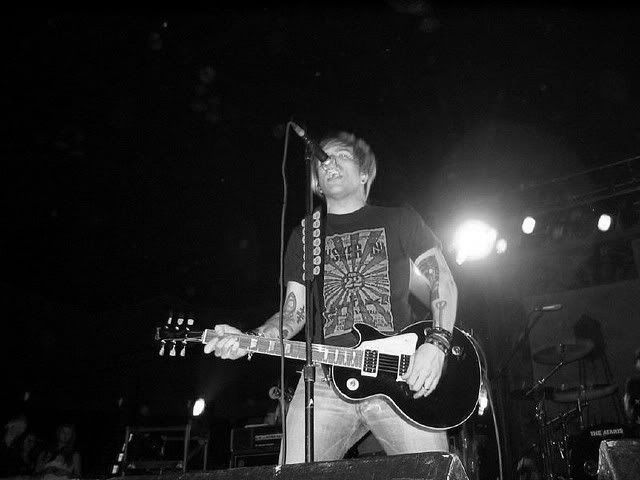 Damone opened. They are a Boston band consisting of Noelle (vocals/guitar), Dave Pino (guitar), Vazquez (bass), and Dustin Hengst (drums). They put on a nice rock show. I picked up their E.P. at the merch table.
Then came Further Seems Forever. These guys, Jason Gleason (vocals), Josh Colbert (guitar), Derick Cordoba (guitar), Chad Neptune (bass), and Steve Kleisath (drums), put on a great show. I can't say I'm a huge fan, but it was entertaining.
Next up, the Juliana Theory played a great show. The Juliana Theory is Brett Detar (vocals/guitar), Chad Alan (bass), Joshua Fielder (guitar), Josh Kosker (guitar), and Josh Walters (drums). I was a little familiar with this band as I had picked up their 2001 E.P., Music From Another Room
, some time ago while cruising the music stacks of Cactus Records in Houston. I liked the E.P. and really enjoyed seeing them live.
The headliners were the Ataris. The Ataris are made up of Kris Roe (vocals/guitar), John Collura (guitar), Mike Davenport (bass), and Chris Knapp (drums). They were touring to support the release of their recent album, So Long, Astoria
. They put on a great show. They're not really my thing (a little too pop-rock), but frontman, Kris Roe, is from Indiana, so I felt obliged to see this show.
Full setlist (not from this show, but from a show around this time … best I could do): Unopened Letter to the World / 1.15.96 / IOU One Galaxy / So Long, Astoria / I Won't Spend Another Night Alone / Between You and Me / In This Diary / Your Boyfriend Sucks / Make It Last / Summer Wind Was Always Our Song / The Boys of Summer (Don Henley cover) / All You Can Ever Learn Is What You Already Know / ENCORE / The Saddest Song / Teenage Riot / San Dimas High School Rules / Astro Zombie
If I die tomorrow
Will this song live on forever? …